Chloe Grace Moretz notable actress and model shared her own experience that she had with the stem cell gold. "No promotion, battled with acne for years, this stuff genuinely helps, it's expensive but it's worth it @stemcellbeauty". Love you girl.

Our Stem Cell Face Mask is featured in this months issue of Allure Magazine (September 2015).
Quoted as "The Best Thing Ever" for wedding prep. @Hannahsoboroff @realreal

GATHER UP:
1 - 10 oz bag (2 1/2 cups) Frozen Organic Strawberries
2 Cups Organic Coconut Milk (1 cup frozen into ice cubes & 1 cup reserved when blending)
1 teaspoon Omica Organics Stevia or sweetener of choice (sweeten to taste)
4 Tablespoons Bulletproof®  Upgraded™Collagen Powder or
Vegan Protein SunWarrior Warrior Blend Vanilla
1 Tablespoon Bulletproof®  Brain Octane™ Oil (optional)
2 teaspoons Jing Herbs Pearl Powder (optional)
1 teaspoon Organic Rose Water (optional)
1 Tablespoon Arnox Advantage (Anova Health brand) (optional)
Fresh Organic Strawberries (optional garnish)
Gear Up:
Blender, 1 cup measure, 1 tablespoon measure, 1 teaspoon measure
Sling It Up:
Pour 1 cup coconut milk into your ice cube trays and freeze, reserve the second cup for blending the ingredients.
Once frozen, place the coconut milk cubes into your blender.  (If you don't have a VitaMix, Blendtec or Ninja high speed blender, simply blend the recipe in two even portions or whatever sized portions your blender will handle).
Add the frozen organic strawberries to the blender.
Add the sweetener into the reserved cup of coconut milk and pour it into the blender.
Jing it Up:
Add Protein Powder of Choice and Optional Superfoods.
Blend on high, stopping and scraping down the sides if needed until it is blended smoothly into a "gelato" consistency. If using a non-high speed blender, and the consistency ends up more like a smoothie, put it in the freezer (in a freezer safe container) for 1-3 hours to firm up.
Enjoy and share with someone you love, especially if dairy and sugar are not in their diet.... they are gonna flip!
Garnish with fresh strawberries if you have them on hand.
SUPER FOOD SCIENCE
Strawberries are not only delicious, they are an excellent chelator of the heavy metal mercury. Strawberries are, however one of www.ewg.org's "Dirty Dozen," meaning they are one of the most heavily pesticide sprayed fruits/vegetables, so you always need to buy them organic!
Coconut Milk contains healthy fats like lauric acid, which converts in the body into monolaurin, a powerful ally of your immune system and protector against opportunistic organisms.
Collagen and Proteins in general promote and support tissue repair of all forms, not just the muscles, and especially the beauty elements of the skin and hair.
Brain Octane Oil is concentrated caprylic acid.  These medium chain fatty acids are the building blocks for the ketones that fuel your brain.  They provide the chemistry that runs the body more efficiently from hormone production, to mental focus, metabolism and fat burning.
Pearl Powder is a top Chinese Tonic Herb for beauty and luster of the skin, but it is also a supreme Shen herb, helping to keep you mentally calm in the stresses of daily life. Part of its magic is that it increases "SOD," superoxide dismutase, one of the body's most powerful antioxidants.
Plants in the Rose family produce many seemingly different types of foods that you are familiar with, including almonds, peaches and strawberries. Rose petals are not only a symbol for love, in herbalism they are actually a well-known heart tonic. Like Pearl, Rose helps to calm your mind, and keep you open-hearted.
Arnox Advantage is a blend of food concentrates and amino acids that nourish the endothelium, the inner lining of the blood vessels, and which boost nitric oxide levels. The Nobel Prize in Medicine was awarded to three pharmacologists in 1998 for their research with nitric oxide. It is considered the most important compound for cardiovascular health because it is the signaling molecule that is responsible for vasodilation. Viagra works by increasing a nitric oxide pathway!
The Detox Summer Salad
Prep/Cook Time: 20 minutes
Ingredients:
 2 Cups  Fresh baby Spinach leaves, washed and well dried
1 Head Bibb lettuce, washed and well dried, cut in bite size pieces
2 Tablespoon Fresh Dill
1 Tablespoon Seasoned rice wine vinegar
2 Tablespoons Olive oil
1 Tablespoons Almond Butter
Lemon, to taste
1-3 pinches Sea salt
Pepper
2 Small Asian pear, sliced
½ Bulb Fennel, sliced
1 Small Peach, peeled and sliced
¼ Cup Crushed  hazelnuts
Directions:
Wash and dry spinach, Bibb lettuce and dill. Tear Bibb lettuce into bite size pieces and chop the dill. Place the greens and dill in a bowl.
Blend the rice wine, oil, almond butter and lemon juice. Add pepper to taste and salt if needed. If you would like the dressing to be thinner, add a little water.
Thinly slice the fennel and place in the dressing to marinade and soften until you are ready to serve the salad.
Thinly slice the pear and peach.
When you are ready to serve the salad, toss in the marinated fennel with the dressing. Add in the pear, persimmon and top with crushed hazelnuts.
The Longevity Now Conference is unlike any other event I have ever been to before. To me it is one of the most far out, progressive and alternative health conferences on the planet. The event took place last weekend at the Anaheim Hilton and attracted more than 2,000 attendees from all over the world. There were over 40 exhibitors and 15 speakers to get inspired by. I spoke with veteran attendee, health enthusiast and renowned fashion stylist Luke Storey, who told me what his thoughts were on this year's event compared to the previous conferences:
"What made this conference different from past Longevity Now Conferences is the fact that the whole movement has become a bit more progressive, and open-minded. In the beginning it was largely a raw-vegan crowd. It was great to see the audience embrace Dave Asprey and some of his ideas. I think it's really positive that people are taking a well rounded approach to food while still including all of the herbs and superfoods. The difference this year is that there was less diet dogma and a polarized crowd than in the years before."
The conference, which is put on by both Longevity Warehouse and David Wolfe, has grown over the years but what I have learned is that at every event, attendees typically have a great time, arguable the best time ever. I say this because David Wolfe is know for saying, "It's going to the best day ever" and even has a website called bestdayever.com. When he first said it, it seemed cheesy and untrue, but as the day went on and I kept hearing it aloud, I started to believe it. I was so inspired by the speakers, I met up with some great friends, met new ones, was surrounded by other people who love health as much as I do, and almost everyone had a smile on their face. It became the best day ever and I did not want to leave.
It was hard to narrow my picks down from the conference but below are some I would definitely recommend for those who did not attend. One thing that I did take home with me is starting the day off by repeating David's mantra, "It's going to be the best day ever" and my days are certainly getting better.
Thanks Longevity Conference. Hope to see you next year!
My Top Picks from LNC 2015
(Clockwise from top left)
Omica Organics Liquid Turmeric
Turmeric is known to be one of the healthiest foods on the planet but how do we get it into our diet? Many use Turmeric for cooking but sometimes I enjoy taking it by the dropper full to get my daily dose. Omica's extract uses no flavorings, colors, fillers or artificial ingredients and is USDA certified organic. There is a high concentration of curcumin, which is high in antioxidants and has been shown to be anti-inflammatory and should be part of everyone's daily regimen.
The Fear Cure by Lissa Rankin, M.D.
Her talk at the conference was by far my favorite. Not that I did not enjoy the others, but she was incredibly bold and not afraid to be vulnerable up on that stage. What resonated most for me was this idea that every hardship is a chance for personal evolution and that loss is natural and leads to growth. I think that it is incredibly hard to understand those words of wisdom when we are going through tough times, but by facing the pain and moving through it, we come out so much stronger than we ever could have imagined. In her book she discusses how being afraid can make us sick, how to differentiate different kinds of fear, how to tune into our voice of courage, how to reshape our relationship with fear and what our fears can tell us about ourselves. This may bring a lot to the surface but hey, it sounds like a great opportunity for personal development.
Castle Rock Water 
The water is well deserving of its epic name. The delicious and clean Castle Rock water was distributed and available to purchase throughout the entire weekend. Sourced from Mount Shasta, this water is naturally structured, filtered, pH balanced and free from artificial ingredients. On the website it says the water has undergone "100 years of natural filtration through layers of granite, gem infused rock, gold and green jade". While water is one of the most contested topics, especially at an event like longevity, many health experts who were present were impressed with the quality of Castle Rock. I still have a lot to learn about water but I must say, you can really taste the different between this and LA city tap water.
Zen Tech
Admit it. We are all completely hooked to our devices. This Zen Tech screen helps to protect our eyes from the blue light that is typically emitted from LED screens. You can tell the difference when you have the Zen Tech on your screen or use a program like FLUX on your computer. According to an article on Harvard Health, the blue light not only throws off our sleep and circadian rhythms but it may contribute to "cancer, diabetes, heart disease and obesity". You can learn more by clicking on the article link. However, I am all for protecting our sensitive eyes from the ominous blue light.
Eat the Rainbow
This is not a product but was the overarching theme of David Wolfe's talks throughout the weekend. He spoke about eating all the colors of the rainbow. We hear this saying frequently in the health community, but Wolfe really goes deep into what nutrition is locked in these pigments, which colors are good for certain parts of the body and what foods contain these valuable compounds. You can listen to a recent talk that David Wolfe did on this topic with Medicinal Foods here and get a taste of what he was talking about at the conference.
Effortless Healing by Joseph Mercola, M.D.
How many of us believe that ultimate health is our birthright? Dr. Mercola does and he also believes that we need to step out of the way and learn some basic tips about effortless healing to get there. Dr. Mercola advocates for staying away from GMO's, eating too much sugar, refrain from carbs, meat laden with antibiotics, as well as other valuable health warnings. He says to spend more time out in the sun, to not sit too much, to drink clean water, to eat unlimited organic vegetables and to consume foods that contain probiotics to support a healthy micro biome. These were just some of the tips that he mentioned at his talk.  Maybe applying these tips are not exactly "effortless", but there is much healing that needs to take place in our country and in my opinion, his book is good place to start when looking for guidance.
This article was written by Contributor Alexa Gray
Cleansing is a word that gets tossed around a lot these days. Most people assume that cleansing means that you go all day without food and you just barely get by on these colorful yet unfulfilling juices made from fruits and veggies. Well, after trying that, we at Stem Cell Beauty realized that there is more than one way to cleanse. One of our favorite food bloggers leads an online community cleanse at the beginning of every season. She is a chef and health coach who used to only lead juice cleanse but now sees that we can cleanse using food as well. This makes for an easier transition for those of us who are not ready to let go of our beloved food but would like to make some upgraded choices (like coffee to tea) or would like to give our digestions a break (going from processed foods to whole foods). This cleanse is delicious and realistic. We will be posting some pictures and insights from our cleanse so that we may inspire you to make some better choices for yourself.
This Weekend we are Focusing On:
1.) Make time for ourselves
2.) Start to make upgraded choices (from acidic to alkaline foods)
3.) Simplify our lives
4.) Go outside and spend time in nature
5.)  Eat warming foods
Have a great weekend everyone and stay tuned!
OUR TOP 10 ECO-CHIC PICKS FROM EXPO WEST 2015 by contributor Alexa Gray
People come from all over the world to see what's trending for the coming year at Expo West. My top product picks care so much about their products, where they are sourced from and how they affect the consumer. We are in a new paradigm with so much transparency. Here is the best of what I found behind the curtain…
URBAN MOONSHINE TINCTURES
Urban Moonshine is a Vermont-based company that produces organic digestive bitters and herbal tonics. Bitters are traditionally an alcohol tincture infused with medicinal plants that have positive effects on the body. The use of bitters dates all the way back to ancient Egypt. We can now use these ancient remedies for our modern needs. These tinctures are great for any digestive problems, for cleansing the liver and can help control overeating. Sounds too good to be true, but at Expo West I stumbled upon this stand just after consuming a really sweet ice cream that was sending my body into sugar high mode. I asked for a remedy and with a few sprays of the citrus bitters my spinning head began to quiet down.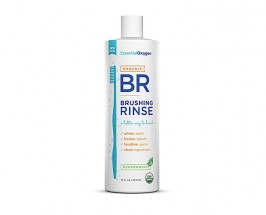 ESSENTIAL OXYGEN BRUSHING RINSE
We all want white pristine teeth and fresh smelling breath, but what is really in all of those "quick fix" oral products? I was on the search to find one that is full of clean, certified organic ingredients, which actually works. Essential Oxygen was founded by Mystica Linforth, who nine years ago, had advanced periodontal disease. After months of dentist appointments and many dollars spent on special products, she tried an alternative therapy. She swished a blend of food grade organic hydrogen peroxide, aloe vera and potent essential oils in her mouth. Within three days she was getting compliments on her white teeth, in a week her gums weren't bleeding anymore, all her tooth sensitivity issues were gone and hours after swishing her breath was still fresh. When she went back to her dentist he confirmed that her oral disease had been stopped in its tracks and tartar was nowhere to be found. Bottom line, this one is a game changer.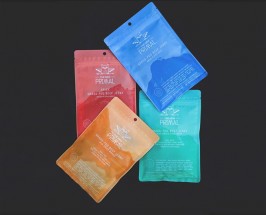 THE NEW PRIMAL JERKY
There seems to be a lot of paleo snacks for the modern hunter-gatherer but are they all legit? The New Primal jerky is delicious, humane and easy for on-the-go healthy snacking. The ingredients in every recipe are always gluten-free, free of antibiotics, free of hormones and contain words you know and can actually pronounce. Founder, Jason Burke, said that their farming partners provide up to four times the roaming area of average commercial turkey ranches. This free-range practice ensures the highest quality living conditions and produces a healthier and better-tasting jerky. The animals are respected and the company's mission is to inspire and empower people to change their relationship with food.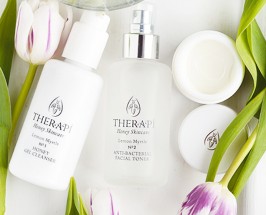 THERAPI ALL NATURAL HONEY SKINCARE
Many of the ingredients in our skin care products come from nature, but which brands actually put their profits back into the source? Tanya Hawkes, founder of Therapi, is a well-respected beekeeper with over 17 hives – a bee whisperer who harvests her own honey and puts at least 5% of profits back into bee conservation. It's no secret that honey is good for our skin – containing the essences of thousands of flowers in a single drop – and you won't find much else besides honey and propolis in these bottles. The scent is incredible.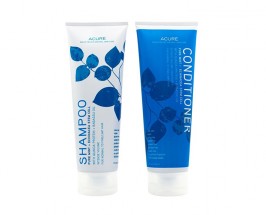 ACURE SHAMPOO + CONDITIONER
Have you found a hair care product that's natural that doesn't completely dry your hair out or ruin your color? I'm sure many of you are like me and have been on an endless search for the healthy holy grail of hair care. I can't tell you how pleasantly surprised I was when I tried Acure. This affordable hair care has all the healthy certifications we are looking for: color-safe, paraben-free, sulfate-free, phalate-free, cruelty-free, certified organic, fair trade, biodegradable packaging, etc. The best part is that it actually nourishes the hair just like a high-end salon product would without using scary ingredients. Like celeb makeup artist Katey Denno says, "We don't want to wash any harsh chemicals down the drain and into the ocean," and now we don't have to. Our hair and our oceans will thank us for it.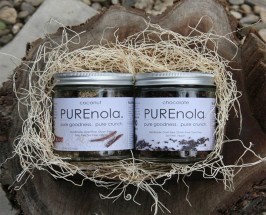 PURE NOLA GRANOLA
Melanie Banders started this delicious business out of her kitchen in Venice, CA. When she became a mom, her life got busy and at times she didn't have time for a full meal. She still wanted something healthy that she could grab that was delicious, healthful and chemical free. So she decided to make a food product for herself. Meet Pure Nola, the granola that's made with absolutely real ingredients like organic cacao, coconut flakes, raw seeds, coconut oil and maple syrup. What also makes her Nola different is that she soaks and sprouts her ingredients. This unlocks nutrients and makes the nuts easier for digesting. All the work is done for us. It's pure, simple and utterly delicious.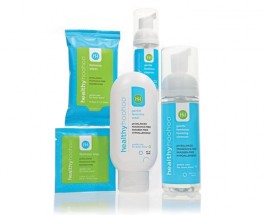 HEALTHY HOO HOO FEMININE CARE PRODUCTS
Did we get your attention with the name yet? Good. Stacy Lyon created Healthy Hoo Hoo, a line of fresh feminine care products, when she discovered that most mass-marketed intimate cleansers and body washes are laden with harsh detergents, dyes, parabens and synthetic fragrances. These chemicals not only upset a woman's natural balance but also open the door for unwanted bacteria and other discomforts. Her products are made of clean ingredients that cleanse your most precious parts without putting them in danger. Happy healthy hoo hoos for all!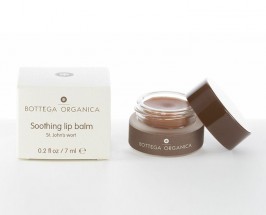 BOTTEGA ORGANICA LIP BALM
Science and nature go hand in hand at Bottega Organica. The all-natural skincare line contains ingredients that are well-researched and are meticulously crafted. Their ingredients are harvested and processed naturally from their farms in Italy and upstate NY, straight from farm to bottle. You won't find any preservatives, emulsifiers, artificial fragrances, colors or synthetics of any kind. It all began while Dr. Andrea Alimonti, one of Bottega Organica's founders and a world-renowned geneticist, was studying a novel cure for cancer. After screening thousands of different combinations, he was able to identify natural substances with the potential of slowing the aging of human cells. Those ingredients are what makes up this incredible line. You can buy them online or at their brick and mortar location in the West Village. They products are stunning and backed by science. This is our pick for smarty-pants health addicts.
DR. ALKAITIS FACE MASK
A pioneer in the healthy skin care world, I met Dr. Alkaitis himself and his lovely daughter Trish. They explained to me that they have brought clean skincare to people for over fourteen years. Dr. Alkaitis has a whole line of products but I was able to try their mask. I got my DIY on and mixed it with organic raw honey and yogurt. I blended these ingredients with their "skin food" formulated from 39 different kinds of vegetables. It turned into this silky paste, I applied it to my skin and then I let it do its thing for 20 minutes. Upon removal, I had never seen my skin glow so much with an at-home treatment. This is really the take-the-spa-home-with-you mask. This is the type of glow you have post-facial. All it took was a little mixing in my kitchen (keep in mind you can also mix the mask with water). A big yes to this classic line!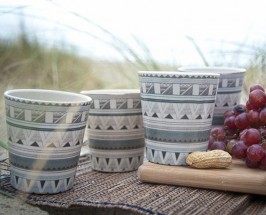 ECOSOULIFE SIPPER CUPS
Get ready to restock your kitchen with these consciously cool cups by EcoSouLife. It's the perfect combination of design and sustainability. This set of cups is re-usable, dishwasher safe, heat resistant and biodegradable. If you "plant" these cups in the ground they will become one with the earth in two to three years. Made from vegetable waste matter such as cornstarch, bamboo and rice husks, they have a delightful lightweight feel and a smooth texture that feels just like stoneware or melamine, without the toxic production process. This is the perfect alternative to plastic plates, cups and cutlery. Why should we compromise the planets resources for aesthetics? Now we don't have to.
Note: The line is launching in the U.S. in June 
Valentine's Day is upon us! This year I celebrate by sharing stories from some of my favorite artisan chocolate makers. These three businesses are incredibly dedicated to producing a very high quality product, which inspires me to keep the quality bar high in all aspects of my life. I feel good knowing my dollar directly supports businesses that I can fully stand behind. These individuals are the kind of people who design their own outstanding packaging, build their own shop, wake up at 5:00 am to make chocolate, use heirloom plants, and work with biodynamic and sustainable farms. It's amazing how rich and unique all of these chocolates taste and how far they will go to keep it that way. These chocolates are all wonderful and made with such immense amount of love. I encourage all of my readers to support these dedicated and wonderful artisans this year when selecting their chocolate for v-day. Set the bar high in your love life, your chocolate life and beyond.
Raw chocolate handmade in a home kitchen and sweetened with raw honey
Biodynamic Chocolate made with heirloom cacao
Raw chocolate truffles handmade in Topanga Canyon
When you wake up in the morning, what is the first  you do? Do you moan and groan about what you have to face in the coming hours? Do you play your favorite song to motivate movement? How do world leaders, business masters or top  executives get up in the morning? Is there something that they are doing that sets them up for success? Many of them have morning routines, which include getting up early and setting the right tone for the day. We are going to discuss one of our favorite morning routines and it's called the Miracle Morning. It was invented by motivational speaker and author Hal Elrod. His morning routine is called Life S.A.V.E.R.S. Each letter stands for a different part of the morning ritual. We are going to spell it all out for you.
S. Stands for SILENCE. 
This could look like meditation, prayer or breathing. Either do one, a combination or them all.  I like to sit with my legs crossed, spine straight and in an upright position. I begin to breath slowly. When my mind chatter starts I do not engage and instead let those thoughts have their space and soon they pass. The longer I sit the more time is allotted for the mind chatter to have it's moment. When there is no chatter left I find myself in this space of great peace and contentment.
Check out this article that talks about the top CEO's who meditate.
A. Stands for AFFIRMATIONS
Step A. Write down what you really want for your life. You could focus on different categories (lifestyle, relationships, business).
Step B. Write down why you want these things? What will you get once you have achieved it?
Step C. What's preventing you from getting it?
Step D. What am I committed to everyday so that I become the person that I want to be.
Hal is not into the "I AM" statements as if you already there. Instead say, I am committed to doing __Step D_____ to achieve ___Step A____. 
V. Stands for VISUALIZE
Hal says that often our goals and dreams are cloaked in fear. When you visualize your outcome or dreams  happening it goes from being a thought to a real visual. We have to see the end results. What do you need to do today in order to make your dreams come to life? Visualize yourself taking that action today and enjoying the work.
E. Stands for EXERCISE
When we do our exercise in the morning we increase our mental, physical and emotional clarity. You don't have to get fancy. I like to put on a song and dance. I usually am laughing and smiling by the end of this one. Try to break a sweat.
R. Stands for READ
This is the space for you to have your mental workout. Read something that inspires you. There is so much information out there and the wisdom could help you achieve your goals. Hal encourages people to read books that are focused on self-development or help to inspire your growth.
S. Stands for SCRIBE/WRITE
You can write out your goals, desires, your commitments or whatever feels right for you. This is the place to gain clarity and to be creative in your day.
* Try doing each letter for 1 minute and every day increase your time. This is a space for you to get in touch with yourself and set yourself up for incredible success. Try it out and we hope that it changes your life for the better!
* Another thing to consider is to create your own routine or try just doing one of the letters. This is a starting point for you to find out what works best for you.